Some pretty awesome projects/builds are constantly popping up on the forums, so I thought it would be fun to start showcasing some of them!  I'll try to post one every weekend that has some standout/unique feature, or is just an all around awesome/clean build.
This first one comes from forum member banjokazooie, and is a Raspberry Pi 3 crammed into a Wii U gamepad using a 6.5″ hdmi screen.  A few people in the forums have talked about doing something with the Wii U controller (including myself), but this is the first one I've seen taken to completion, and it came out great!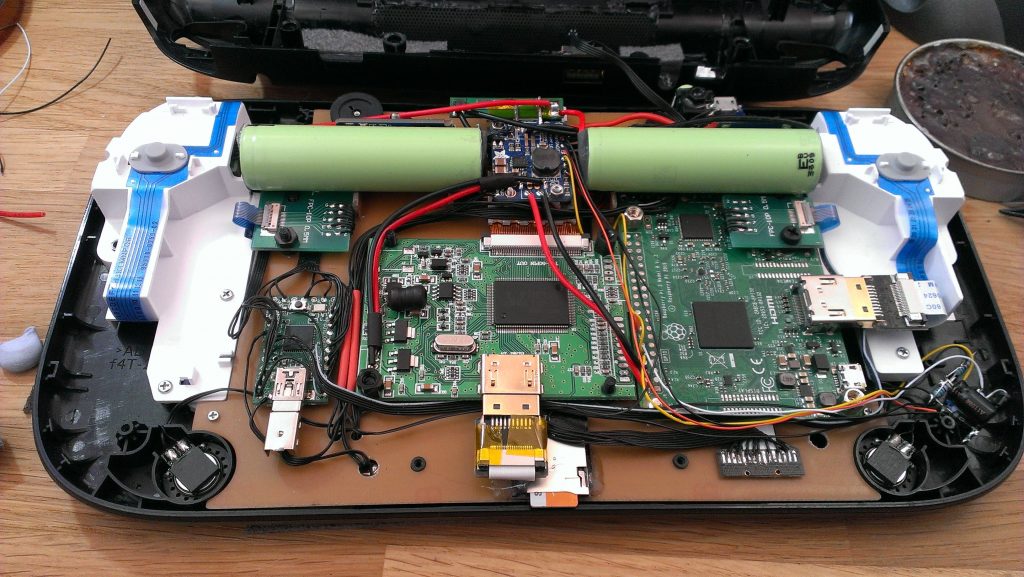 I reached out to banjokazooie to ask a few questions that I thought folks will want to know (as well as a couple I was just curious about):
How long did it take you to finish?
It took about 3 months to complete most of the time waiting for parts from china.
What was the hardest part?
The hardest part was to measure an cut a piece of pcb to cover the entire middle area which hold everything together.
What was the total cost of parts (roughly)?
Total cost may be if you don't break any parts with prototyping around 160£ (about $195 USD).
I see a brown panel just behind the screen cut perfectly for mounting everything. Is that a custom CNC part?
That brown panel as I mentioned is the PCB clad board hand made to fit perfectly. I still have .ai file for anyone willing to cut that on cnc.
Any heat issues with using the Pi 3?
So far no heat issue, tested on n64 for 3 hours – that's the total time on one charge. But I'm planing to put a nice honeycomb mesh on the back battery cover ho help with the ventilation.
Awesome job, banjokazooie!  Check out more photos of and discussion about this build (as well as a list of parts used) in the forums!
If you see a project in the forums that would be a good candidate for a community spotlight, be sure to send me a PM in the forums about it!  🙂
Until next time…