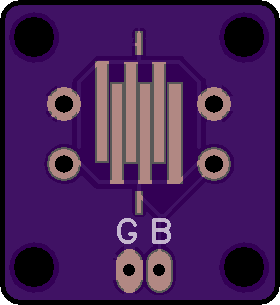 So I am gathering the parts for a basic GBZ build(my 1st). I was looking for rear button PCBs so that I could use the DMG style buttons on the back.
I thought I'd take a crack at making my own in
EasyEDA
. My thinking was to try and make something that was compatible with both membrane style buttons and the tactile switches you see everywhere. The idea would be that somebody could choose to either use buttons or tactile switches with the same PCB depending on their preferences.
I have plans to try and design a 3D printable bracket that would fit these.
I am not a PCB designer so I imagine there are a ton of amateurish mistakes on this thing. I also have just ordered them so I don't even know if they work, though I am fairly confident that they should.
I tried to make them as small as humanly possible in the hopes they would be ultra cheap on OSHPark. I am sharing them here so that people can try them out if they want to or offer feedback. Again, I don't really know what I am doing so these could be total junk.

--EDIT--
Forgot the OSH Park URL:
https://oshpark.com/shared_projects/LycZgzsv